Roads & Traffic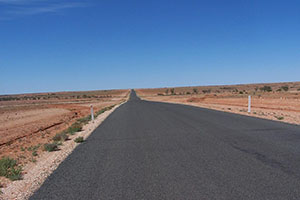 Bulloo Shire maintains a network of 2494.95km of Shire roads and 391.18km of Main Roads. Approximately 2366.95km of these are regularly maintained unsealed roads and conditions can vary depending on the weather conditions.
Council advises motorists to take caution on all roads and drive to prevailing conditions. Drivers are urged to show caution when crossing any stormwater on roadways and not to attempt to traverse creeks and other crossings that are clearly under water. Remember "If its flooded, forget it"
Reports on local road conditions are generated on an 'as-needed' basis unless there are weather events that warrant daily updates. Bulloo Shire road reports will be posted here. Updates are also available by contacting the Thargomindah Visitor Information Centre on 07 4621 8095.
Some roads in the shire are under the jurisdiction of the Department of Transport and Main Roads. For information on Main Roads closures, please visit www.131940.qld.gov.au
Innamincka Road
Thargomindah-Quilpie Road
Bulloo Shire Council and Department of Transport and Main Roads (TMR) are working together upgrading and bitumenising 5 kms per year. Currenlty less than 12kms remains unsealed and is regularly maintained as a main thoroughfare and State road.
Bulloo Shire Council Serves the local community by managing the following:
Roads
Kerbs and Channel
Footpaths
Grids
Drainage Infrastructure
To notify Council of possible repairs or improvements to roads, footpaths or traffic management, please contact the Works Manager on 07 4621 8000.
Transport and Freight Strategy
Bulloo, Paroo, Murweh and Quilpie Shire Councils participated in a study into the transport and freight issues in South West Queensland. An extract of South West Queensland Transport and Freight Strategy (PDF) is available online. To request a full copy of the strategy please email Council@bulloo.qld.gov.au.
Council Road Register
To view Counci's road register, click here.
To view the street register of Thargomindah, Hungerford and Warri Gate Camp, click here.