Waste Management
A kerbside refuse collection service operates weekly in the town of Thargomindah. Please place your bin out the night before for collection.
For new services or replacement bins, contact Council's Administration on (07) 4621 8000.
Refuse tips are located in Thargomindah (off the Bulloo Developmental Road), Hungerford and Noccundra.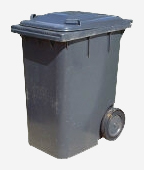 Waste disposal
The Bulloo Shire Council operates the Thargomindah Rubbish Tip.
No facility to burn waste exists and the lighting of fires is not allowed at the tip.
The facility is open 24 hours a day, seven days a week and is not manned. At times it is closed due to wet weather making the site inaccessible or for other operational reasons.
All queries regarding waste types and other types of waste that can be disposed must be directed to Bulloo Shire Council's Manager of Community Services.
Bin Collection
Council's garbage operators collect rubbish on the following days:
Collection from a Residential address is every Thursday
Collection from a Commercial address is every Monday and Thursday
Council operators will empty wheelie bins from the kerbside in front of each property on the designated collection day. Only rubbish in the Council provided wheelie bins will be picked up.
Residents are asked to place their bin on the kerbside with the wheels facing toward their house on the morning of, or night before, collection day, and to remove their bins from the street as soon as possible after collection. Council guarantees service on your collection day.
Your waste service is an annual service. If your collection day falls on a public holiday (including Christmas Day) then your waste will be collected the next working day.
These bins can only have general household waste placed in them. All kitchen waste, vacuum dust and moist material are required to be placed in a plastic bag.
Items that should not be placed in a wheelie bin include:
Hot ashes
Unwrapped vacuum dust
Liquids
Syringes
Oils
Paints and solvents
Timber and building materials
Charges
The annual charge for your waste and recycling collection service is included on the property owner's rates notice.
FAQ's
How do I order bins for my new house?
Contact the Bulloo Shire Council to order a wheelie bin. The bins will be delivered to your home.
Who owns the bins?
Bulloo Shire Council owns the bins and residents are responsible for the routine cleaning and care of the bins.
What if my bin is damaged?
Contact Bulloo Shire Council to report the problem. Council will arrange for the bin to be replaced or repaired at no extra cost, unless the bin is damaged through resident misuse.
Can I have more than one waste bin?
Yes, but you must put your request in writing to Council, and you will be required to pay the additional annual charge and a 'one-off' bin establishment fee.
What do I do if my bin is not emptied, especially when other bins in my street have been serviced?
Contact Bulloo Shire Council to report a missed service. Please note that Council will not provide a return collection for any of the following reasons:
If your bin was not out on the kerb before the truck serviced your street
If your bin contains items that are not permitted
What time does Council begin their bin rounds?
After 6 am on your collection day.
How should I place my bins out on the kerb for collection?
The bins should be placed on the kerbside outside your premises, with the wheels and handle facing the house. A 30cm gap should be left between the bins so that the 'grab-arm' mechanism of the collection truck can safely pick up your bins. Position your bins safely away from obstructions such as cars, power poles and trees.
What if I miss my service day?
If you have not placed your bins out for collection on the scheduled service day, Council will not return to service your bin.